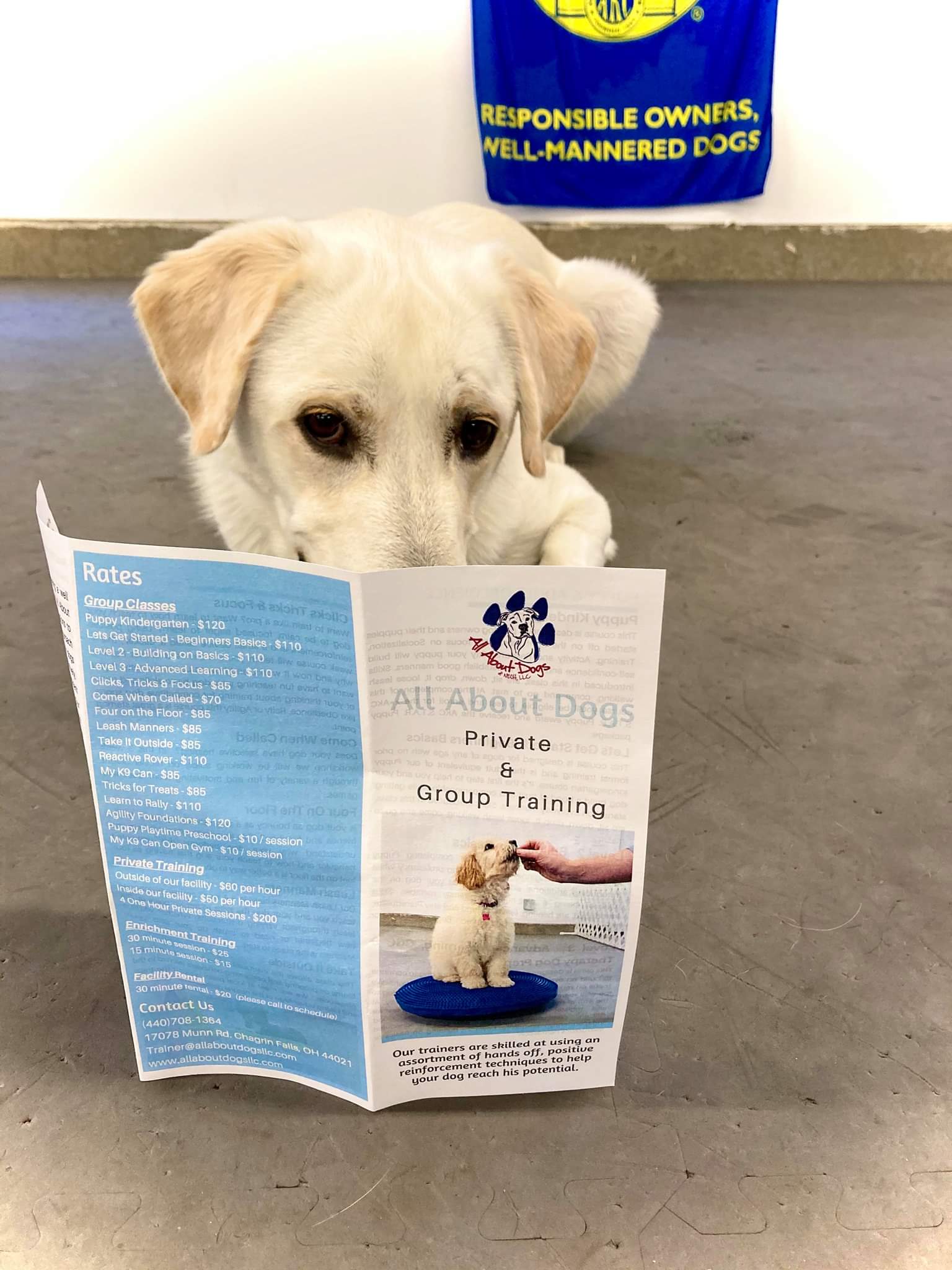 Dog training is an essential part of raising a well mannered member of your family. At All About Dogs we have a variety of training options to meet your needs. Our positive and fun approach to learning will teach you to identify your dogs individual needs and communicate effectively, building a strong relationship and a confident dog.
We have a variety of options to suit your needs including day training, family training, or you can join one of our group training classes.
Health Requirements for services provided in our facility.

Adult Dogs: Must have up-to-date DHLPP, Bordetella, Rabies vaccinations (including Leptospirosis) and negative stool check within the last year. Vaccinations must be a current status minimum 72 hours prior to their first visit. Owners are required to submit a copy of the vaccination records.
Puppies: Must be current on their first round of vaccinations including DHLPP, Bordetella and a negative stool check. Puppies under 6 months may be exempt from Rabies and Leptospirosis per your veterinarian.
Our Training Philosophy
At All About Dogs our training philosophy is 100% positive reinforcement based. We believe that dogs learn their best by being rewarded for doing well! With positive reinforcement based training, we teach a dog to repeat a desired behavior when it's followed by a reward. Undesirable behaviors do not get a reward or acknowledgement. Our trainers DO NOT use harsh reprimands or physical punishments. When we focus on rewarding desired behaviors it helps our dog learn what to do. It allows owners to be proactive vs reactive which sets the dog up for success, builds a strong relationship and desire to learn. Our trainers use operant conditioningOperant conditioning is the process of learning through reinforcement and punishment. In operant conditioning, behaviors are strengthened or weakened based on the consequences of that behavior., and shapingShaping is the use of reinforcement of successive approximations of a desired behavior. Specifically, when using a shaping technique, each approximate desired behavior that is demonstrated is reinforced, while behaviors that are not approximations of the desired behavior are not reinforced. using clicker based training methods. Prong collars, choke chains, and e-collars (also known as shock collars) are not permitted.
Looking for a safe place to train or play with your own dog? We can help with that too! Our training building is available for rental!
Need help determining the best fit for you and your dog?
Meet Our Trainers

Laura

Laura has been involved with dogs all her life. She got her first, Teddy, a Treeing Walker Coonhound, when she was 10 years old and she has grown from there. She participates in Agility, Hunt tests, Shows, Lure Coursing, FAST cats and Barn Hunt. She soon will be adding Dock Diving to the list. She is a licensed UKC Coonhound Show Judge, an Agility Instructor and helps with the local 4-H dog group.
Laura joined the All About Dogs team as a Kennel Technician in September 2015, expanding her duties to Taxi Driver and teaching group dog training classes. Laura was promoted to Dog Training Coordinator in August, 2018.

Lotta

Lotta has been teaching classes in obedience and agility for 20+ years and recently joined the All About Dogs team in 2019.
Among all the animals Lotta has been surrounded by, dogs have always been the ones closest to her heart. Her passion for dog training and dog sports grew in leaps and bounds after she imported her first Belgian Tervuren in 1996. His enthusiasm for life and for working led to involvement in numerous dog sports such as obedience, agility, lure coursing, conformation and barn hunt. But first and foremost, training dogs to learn how to become well mannered family members has been of greatest importance.
Beyond the dog world, Lotta is a registered nurse. She also stays busy running a family horse farm where her 4 current dogs, 2 Belgian Tervuren, a Belgian Malinois and a Sheltie, enjoy playing. Her household also includes 3 cats, 2 snakes, numerous chickens and a fish.

Melinda

Dog training is a huge passion of mine as it is a great therapy for me! After graduating from the CATCH Canine Trainers Academy and 7 years in the field I recently became certified as a CPDT-KA trainer. When becoming a trainer I specialized in dogs who have any and all forms of reactivity. The psychology behind it absolutely fascinates me! I believe all dogs deserve a second chance and owners deserve to have that strong bond with their forever companion. My beagle mix, who passed in September 2021, was by my side throughout my training career, he has taught me so much! He was my student dog while I was in the prime of my studies. Max also helped me with many of my reactive clients as he was a great example of calm behavior. He helped train his younger brother Dash to take his place and help me help my clients in need. I look forward to continuing to expand my knowledge and open some new doors with my training.

Pamela

Pam started working at All About Dogs in 2009 offering her Reiki and Canine massage services but soon she expanded her job responsibilities into the daycare. Spending time with the dogs and watching how they interact led her to learn more about canine body language and behavior. Being a regular in many types of training classes such as agility, Rally-O and obedience with her own dogs she felt the desire to learn to teach training classes and help other dogs and their owners build positive relationships. She mentored with a local trainer for over a year while continuing to read and learn all that she could. She has been teaching classes at All About Dogs since 2012. Pam is an approved trainer for Veteran Canine Connection. She looks forward to helping the Veterans of our area find a companion from local rescues and shelters.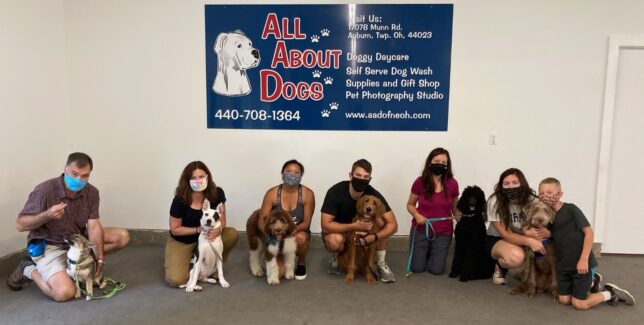 Group Training
Our organized group classes are a good way for you to learn how to teach your dog the skills necessary to navigate in the human world. All dogs are unique individuals and can learn in a variety of ways. Our trainers are skilled at using an assortment of hands off, positive reinforcement techniques to help your dog reach his potential.
A group class provides an opportunity to introduce your dog to a new environment to help them learn the skills needed both at home and in the community.
Many of our group classes have a minimum requirement of dog handler teams. If the minimum is not met you will be notified prior to the class start date and options will be given for the next available class.
All Group Training classes are non-refundable and non-transferable.
All classes will be held in the All About Dogs training building unless otherwise noted.
We offer a variety of options to meet the needs of most dogs!
Puppies – Ages 2 – 6 months.  Get your puppy off to a Great Start!!
Adult – from beginner to advanced we can help with basic manners.
Specialty – A variety of classes to meet specific behavioral challenges.
Confidence & Fun – Classes designed to increase confidence and focus while challenging them mentally and physically.
CGC Testing & Therapy Dog Prep – Canine Good Citizen Testing & therapy dog preparation.
---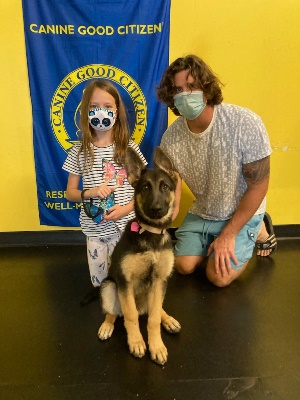 Family Training
Our trainers will provide your family with the tools needed to teach your dog how to be a well-mannered member of the family.
The sessions can be individualized to meet your specific needs, such as:
⦁ Focus on obedience skills.
⦁ Puppy basics
⦁ Help for a fearful or reactive dog.
We can *travel to your home, meet at a local park or at **All About Dogs.
Cost:
$75.75 for 1 hour session outside of our facility*
$272.70 for 4 – 1 hour sessions outside of our facility (10% savings)*
$60.60 for 1 hour session held at our facility**
$222.22 for 4 – 1 hour sessions held at our facility (10% savings)**
All training packages are valid for 1 year from purchase date.
*Travel charges may apply.
** Dogs training in the All About Dogs facility must meet our vaccination and health policies
---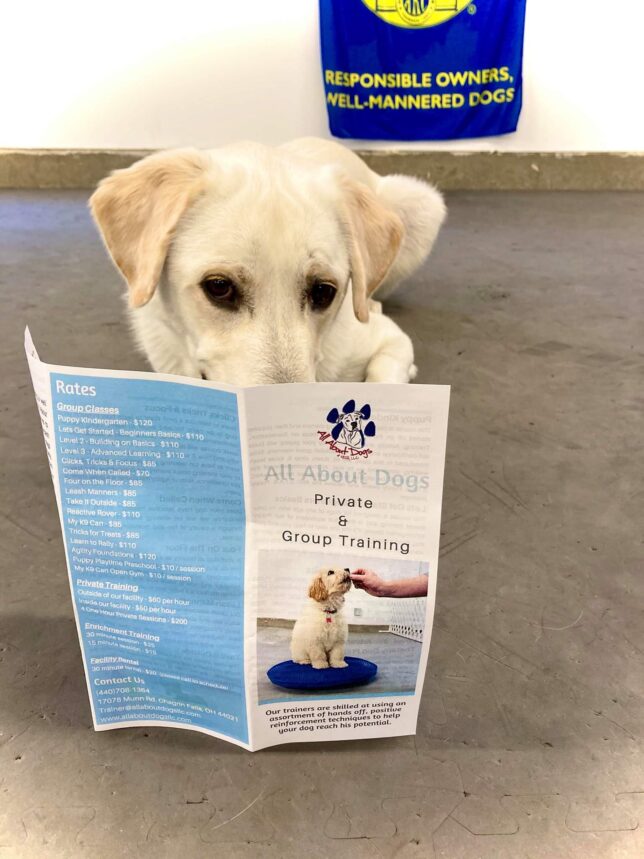 Day Training
Are you overwhelmed with your dog's behavior?
Does your schedule prevent you from joining group classes?
We can work with your dog directly then teach you the cues and how to follow through. We can come to your home or work with your dog while he is boarding at our facility. You will receive a write up or email after each session with information on the skills worked and any management information.
Cost:
$15.15 for 15 minutes at our facility.**
$30.30 for 30 minutes at our facility.**
$75.75 for 1 hour session outside of our facility*
$272.70 for 4 – 1 hour sessions outside of our facility (10% savings)*
$60.60 for 1 hour session held at our facility**
$222.22 for 4 – 1 hour sessions held at our facility (10% savings)**
*Travel charges may apply.
** Dogs trained in the All About Dogs facility must meet our vaccination and health policies
---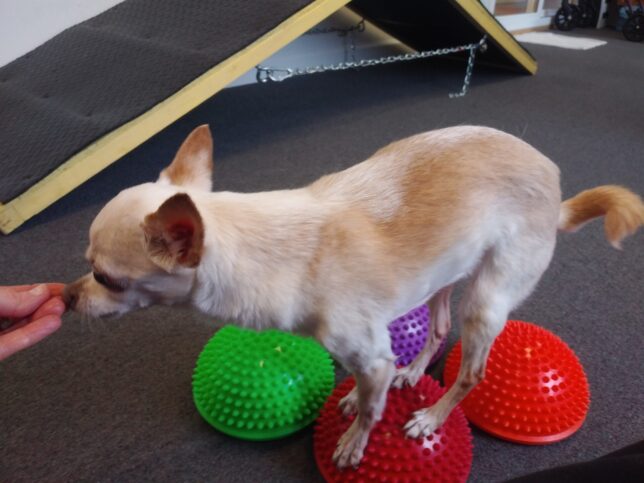 Enrichment Training
Puzzles, games and props and other fun activities are used to stimulate your dog's mind and body.
This type of training can build confidence, reduce stress and help your dog learn new things more quickly which can lead to a more emotionally and physically balanced dog.
Enrichment training can be individualized and adapted to meet the needs of dogs of all ages and abilities.
Cost:
$15.15 for 15 minutes at our facility.**
$25.25 for 30 minutes at our facility.**
** Dogs trained in the All About Dogs facility must meet our vaccination and health policies
---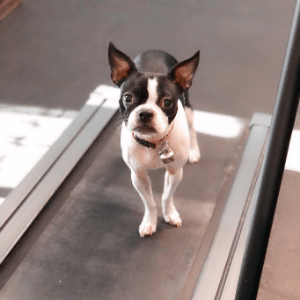 Treadmill Training
Train you dog to walk safely on a treadmill. It's a great way to provide exercise in a safe and climate controlled environment. The trainer will send a brief report card once the training is completed.
We will teach your dog the necessary cues and skills to get on, off and walk comfortably on our treadmill. You can then use this skill on your treadmill at home.
Multiple sessions will most likely be necessary unless your dog has prior treadmill experience. Completion of the Treadmill Training and approval is needed before your dog can participate in Treadmill Time.
Walking on a treadmill is not an option for all dogs and can depend on their level of confidence and comfort.
Cost:
$10.10 for 10 minutes at our facility.**
** Dogs trained in the All About Dogs facility must meet our vaccination and health policies
---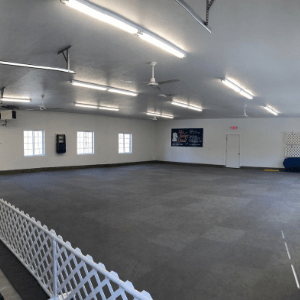 Training Building Rental
Our 2,000 sq. ft. facility is perfect for whatever your needs may be. Whether you are looking to brush up on training skills, play fetch, hold a dog friendly gathering or simply give your dog time off leash. Our facility is the perfect fit! Facility equipment is also available to use upon request.
Cost:
$20.20 for 30 minutes**
Looking for a way to celebrate your canine friends birthday or gotcha day? Check out our Birthday Pawty Package.
** Reservations are limited to availability.
Pre-registration in our Client Portal is required, including the signing of our Facility Rental Agreement.
Pre-payment is required to hold your reservation and is non-refundable.
All dogs entering the All About Dogs facility must meet our vaccination and health policies.