We understand that a boarding facility isn't the best fit for every dog. For some, remaining in their own home can be the best choice while their owners are away. Whether you need to travel for business, go on vacation or work long hours it's reassuring to know that your pets are comfortable and receiving the care they need.
We will work with you to develop a schedule that best meets your dog's needs.
Our In-Home Services go beyond just dogs. We are happy to care for any indoor pet.
---
Overnight Care
Overnight Care is great for multiple pet families or families with older pets.
Our skilled staff with stay overnight in your home keeping your pets comfortable while you are away. We provide meals, playtime, cuddle time and can administer any medications.
Pricing for Overnight Care is starts $75.75.
---
Potty Breaks
Potty Breaks are available 7 days a week and are great for dogs of all ages.
House training help for young pups.
Giving meals and treats to help break the boredom of a long day alone.
Administering medications.
Special cuddle time for our senior friends.
Available for all family pets.
Pricing:
$17.17 for a 15 minute break within 10 miles.
Mileage over 10 miles is an additional $1.25 per mile.
$25.25 for a 30 minute break is available through our in-home care specialists and subject to availability.
---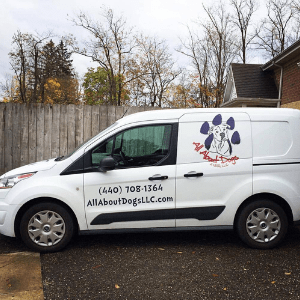 Taxi Service
Our Taxi Service is available 7 days per week.
Transportation to the vet for his annual check up or diagnostic appointment.
Pick up and drop off at our facility for a grooming appointment, doggy daycare or overnight boarding.
Delivery of any food or treat we carry in our store.
Pricing:
$1.25 per mile within a 10 mile radius ($7.07 minimum)
Saturday & Sunday taxi is an additional $5 fee. Advanced scheduling is required to ensure staff availability.
Anything over 10 miles is by pre-approval only.
---
To learn more, check out our Taxi & In-Home Services (PDF) or call our store at 440-708-1364.
Payments made by cash or check will receive a 1% discount.