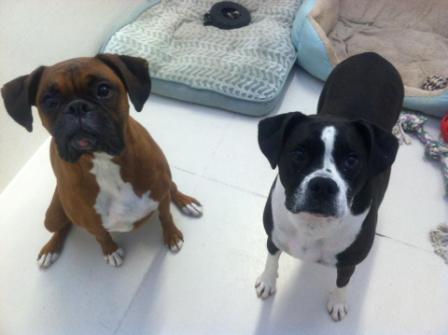 There are lots of reasons to bring your dog to All About Dogs. We have daycare, boarding, grooming, canine massage and reiki, photography, and obedience classes. But most importantly, we are a team of people who LOVE dogs and treat each dog that comes through our door like it is our own. Whether you are bringing your dog in for daycare or for a long-term stay, you can rest assured that your dog will receive the best care.
Community Veterinary Clinic
No Appointment Needed
1. Bring your pet in on leash or in a carrier during the designated hours.
2. Receive assistance on what your pet needs to stay healthy.
3. A licensed veterinarian will oversee your pet's care and answer any questions.
4. Receive proof of vaccinations and services received.
"Thank you for taking such great care of our furry children. When we are at work or out of town, you are there to love them, make them happy and keep them safe. Since 2006 we have relied on you and you always come through for us, worry-free."
~Thank you from Stephanie, Brian & Ally
"All About Dogs is awesome. The staff is friendly and the dogs have a great time. Wednesday daycare is my midweek relief for rambunctious pups."
~Anonymous