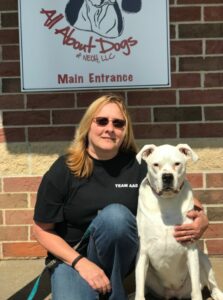 T
Aly
T.
Daycare Attendant, Kennel Technician, Bather & Dog Trainer
Aly started here in June 2017 and is daycare attendant, kennel technician, bather and dog trainer. Her favorite part of the job is "hanging with the dogs and hopefully making their day a little better while they are staying with us." She doesn't currently have any pets but is hoping to adopt a puppy very soon. In her free time she loves to do anything outside such as swimming, hikes, bonfires….everything!  She also enjoys hanging out with her friends, just relaxing or finding an adventure.
Nina
T.
Nina joined our grooming department in April 2017. She loves all breeds and sizes. The most rewarding part of grooming for Nina is the transformation of the dog and knowing that he feels better.  Her favorite part of working here is "the beautiful, clean workplace and so many fantastic dogs. The staff is amazingly caring and will go out of their way for any furry friend." Nina has an American Staffordshire Terrier named Bane and a cat named Widdles. In her spare time she loves spending time with her 3 kids and hanging out with any and all animals.
Renee
T.
Renee is an operations assistant who has been here since September 2012. She is happy that every area of her job "has something to do with the care and nurturing of dogs." She has an orange tabby cat named Mr. Pickles; a tortoiseshell cat named Scooter Pants; and a husky named Koda Bear. Her hobbies are arts and crafts, gardening, her Harley, animals and the welfare of our planet.