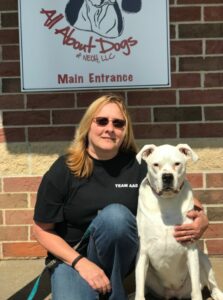 S
Autumn
S.
Daycare Team Leader & Kennel Technician
Autumn started here in November 2017, and is a daycare attendant and kennel technician. Her favorite part of the job is "getting to care for all of the dogs and meet  new people." She has a Beagle / Boxer mix named Roxie and a Beagle named Zeus. During her free time she enjoys collecting pennies, mostly wheat pennies and writing poems and songs.
Brittany
"L.B."
S.
Kennel Supervisor & Front Desk Clerk
L.B. is a kennel supervisor, and front desk clerk. She has been here since April 2012. She enjoys taking care of her favorite long-time clients and has one dog, Samson, a Pomeranian. Her hobbies are reading, exercising and working with animals. (Dogs especially.)
Melissa
S.
Daycare Team Leader, Kennel Technician, Taxi Driver & Overnight Care
Melissa started here in June 2015 and is a daycare assistant and kennel technician. In 2017 Melissa started driving our taxi. Her favorite part of the job "being with the dogs! I love meeting new dogs and getting to know them and seeing my favorite regulars." She has 5 dogs of her own; Shadow, Cody, Shanna, Prue and Xena and 2 cats named Kacey and Patches. In her free time, she loves spending time playing and hanging out with her dogs. She also enjoys some video games, camping, and spending a lot of time with her Dad and boyfriend.