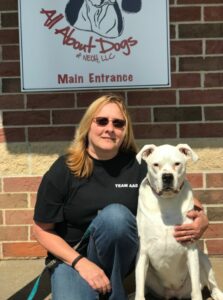 M
Jack
M.
Jack has been a kennel tech here since June 2019.  His favorite parts of the job are "getting shy dogs to start loving me. It's so rewarding to win the trust of a dog." Jack has a Golden Retriever named Izzic.  His special interests include basketball and music production, but above all, he's interested in politics and civil engagement.
Jess
M.
Jess started here in August 2018. She is a daycare attendant. Her favorite part of the job is "being around dogs all day, getting to interact with such loving animals." She has 2 dogs, a Beagle named Rory and a mini Aussie Shepherd named Roo.  In her spare time Jess loves to write and has published 2 novels.  She is also a figure skater.
Susan
M.
Susan started working here in March 2017 and is a daycare assistant. Her favorite part of the job "getting to know all the dogs and their unique personalities, so I can help them enjoy playing in daycare safely." She has 2 dogs of her own; Reagan and Alaskan Malamute and Mattie a Yellow Lab. She also has 4 cats. In her free time she works part time as a physical therapist.  For pleasure she enjoys reading, gardening and spending time with her family.
Will
M.
Will has been a kennel tech here since May 2019.  His favorite moment is "seeing that shy dog that won't come anywhere near you, then as you do your job well in daycare eventually the dog warms up and happily trots up so you can pet it." When not at work he plays on the Miami University Club Dodgeball Team, enjoys woodworking projects and playing Dungeons & Dragons.