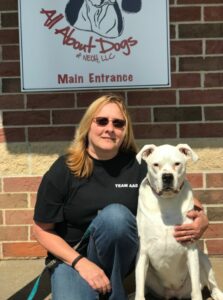 K
Alicia
K.
Alicia has been in the pet grooming industry for nearly 20 years. She has learned techniques from many different groomers. Alicia has participated in several grooming expos and educational seminars. She specializes in all breeds, but personally enjoys grooming mixed breed dogs. During her spare time she enjoys hiking with her dog and doing Yoga.
Kelli
K.
Daycare Attendant, Kennel Technician, Bather & Overnight Care
Kelly started here in October 2016, and is a daycare attendant. Her favorite part of the job is "spending time with every single dog and making sure they are safe and happy in their setting ." She has 5 cats named Berlioz, Valentina, Kevin, Bandit & Jovi and 2 dogs named Daisy and Skylar. She loves to read, sing and completing coloring pages.
Melinda
K.
Kennel Technician, Daycare Attendant & Dog Trainer
Melinda joined our team in February 2018. She works as a Kennel Technician, Daycare Attendant and Dog Trainer. Her favorite part of the job is "how there is never a dull moment and I learn something new everyday!  I also love when I get to have one-on-one time with the dogs and really get to know them."  She has 4 dogs a Puggle, a Chihuahua / Dachshund mix, a Beagle / Jack Russell Terrier mix and a Border Collie / Lab mix.  Melinda has a strong interest in animal behavior outside of work. I love to go hiking with my dogs, camping and I have a love for aquatic animals as I own a 20 gallon and 55 gallon freshwater aquarium.  I also take my dogs to agility classes.
Norman
K.
Norman has been a daycare attendant and kennel tech here since August 2018.  His favorite parts of the job are "meeting new dogs and getting to know what kind of personality they portray. Seeing new types of breeds and just learning more about dogs everyday! Lastly, I just like hanging out with them. They make me happy and I know they are happy as well." Norman has a German Shepherd mix named Ava, an indoor cat named Chester and 4 outside, stray kitties named Mr. Whitey, Gomez, Junior and Lorilei that have been around so long they have become part of the family. When Norman is not at All About Dogs, he enjoys listening to music, watching Netflix and YouTube videos. He's also a big Cleveland sports guy. He plays lacrosse and loves spending time with friends.