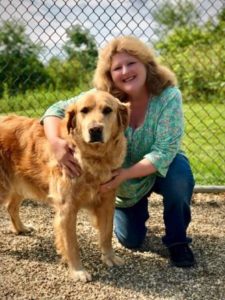 H
Amanda
H.
Amanda joined our team in November 2015, she is a registered AKC instructor and CGC and Puppy STAR evaluator and teaches group dog training classes here at our facility.  Her favorite part of the job is "teaching the handler the tools they need to show their dog how to be a well mannered part of their family – a trained dog is a happy & confident dog."  She enjoys doing outside activities with her family like raising hogs and chickens, tending a vegetable garden, camping and hiking.  She also volunteers with her Therapy Dog at a local home for the disabled.
Jamie
H.
Greeter & Daycare Collaring Technician
Jamie has worked here as a daycare attendant since 2012. She said the dogs are her favorite part of working here, and her hobbies include sitting by the fire with her son, hiking in the woods, shooting guns at her aunt's house, and reading.