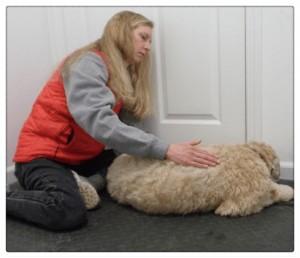 The origins of using massage on animals dates back to ancient times.  Massage is the use  of touch that works to relax tension, flush toxins and move fresh blood and nutrients into the muscles.  
Massage can be offered for rehabilitation, competition and relaxation.  All dogs can benefit from massage including; growing puppies, active adults, recent rescues and slow seniors.
Canine Massage is not a substitute for veterinary care but when paired with conventional medicine it can help enhance the recovery process.
Benefits of Canine Massage:
calm anxiousness and reduce stress
improved mental focus
increase the human, animal bond
improved circulation
endorphin release
reduce muscle stiffness
provide relief from muscle tension
provide relief from arthritis
Pamela Ginther Perry
Certified Canine Massage Practitioner
Certified Usui / Holy Fire II Karuna® Reiki Master
Pricing*
Canine Massage is $25.00 for the first 30 minutes and $1 for each additional minute and is available by appointment either at our facility or in your home**.  For more information or to schedule an appointment please call (440) 708-1364 or email Pam@AllAboutDogsLLC.com.
*When paid by cash or check. 1% surcharge applied to credit card payments.
**Travel charges may apply.